Live Art
Between 1989 and 1997, Mark Renn was active in the field of Live Art.  During that time Mark formed two live art groups, 'Meet the Future', which led to a promenade theatre production 'The End' in Cannon Hill Park, Birmingham and 'Fine Rats International' ( 1989- 1993). Fine Rats were an edgy group of four egomaniac visual artist whose spectacular, post-industrial,  nocturnal exhibitions in derelict factories and under motorways  caused a stir at the time.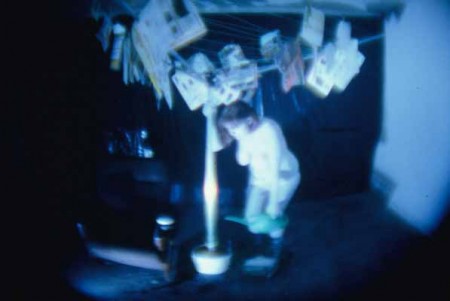 Actress Rachel Gartsideplayed the part of  a post-industrial Eve in Mark Renn's installation for "Out of Order" (1991), a Fine Rats project set in a disused tower block, which was due for demolition. Her looptape performance involved her sitting in a room viewed only through a fisheye lens located in a door. The room was lit by a slowwl pulsing strobe light. The performance featured a 'tree of life' fashioned from a clothes drier and accumulated junk mail accompanied by an audion loop of the 'Birdy song', slowed down to become a funeral dirge
Their most successful show was 'Under Spaghetti Junction in 1993 - it was also their penultimate work as tensions within the group caused Mark to abandon the project and leave after 'Under Spaghetti Junction'.
Mark's work for "Under Spaghetti Junction" took the form of of a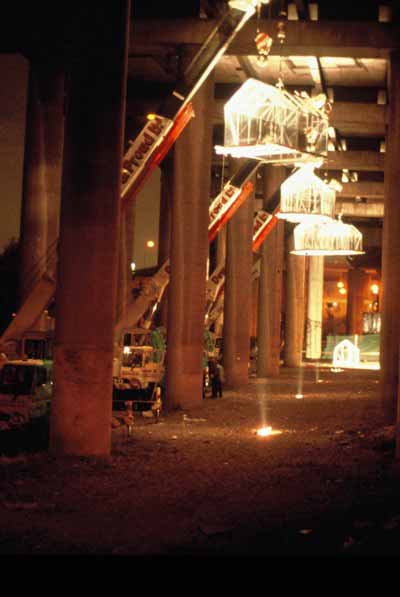 time-based work titled 'The Fall'. Five fully glazed greenhouses were dropped from cranes from a height of 10m over the two nights of the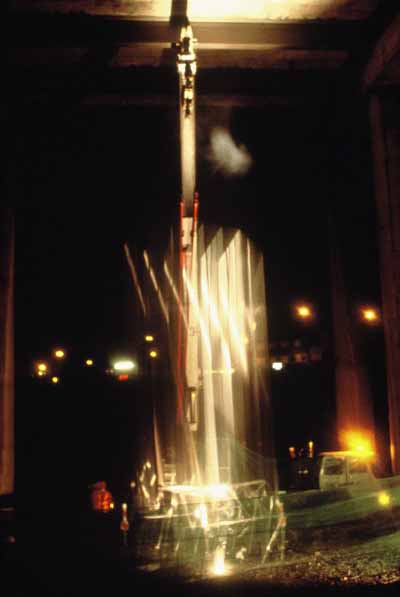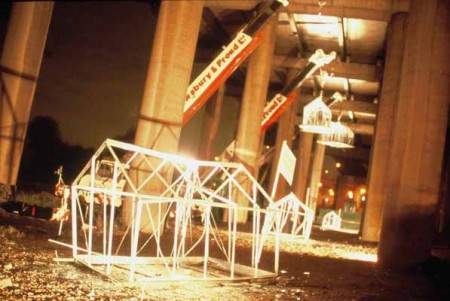 exhibition, according to the logic of a game of bingo.
Marked defined Live Art as follows: " Live Art is an umbrella term to describe artists' work that experiments outside of artform traditions, pushes boundaries and combines media in new and challenging ways. In defining Live Art, one's starting point is simply that, in this type of practice, the presence of the artist is crucial. If a mix of artforms are involved, they are interdependent. The strngth of Live Art lies in the sum of its parts. Live Art is a fusion, which transforms the artforms within it."
During his time as co-founder and director of the Bond Gallery in Digbeth, Mark set up the Ice House Live Art space and produced a number of seasons of Live Art performance events at the gallery. These events featured the work of Richard Layzell and Ann Bean as well as Blissbody and Johnny Easterby. In 1996, Mark curated and performed in, a season of  Live Art events to celebrate Worcester Museum & Art Gallery's centenary. Blissbody's show caused the museum to be raided by mystified police who, on entering the building, discovered artist Framboise Andersen dressed as an ice-cream woman and  apparently selling drugs. Mark's show with actress Annie Lambert was titled 'The Bride in The Bath Even…'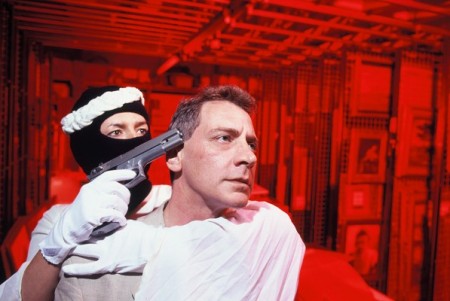 "Culture, jilted, has been locked away languishing in the dark cupboards and cobwebbed corners of the museum for one hundred years. No longer Demure, she has lost her patience, her shyness, perhaps even her marbles and she's on the rampage. Join the hunt for this fickle, elusive and dangerous quarry through the unexplored depths and heights of the Museum & Art Gallery building…."