Parallax
Parallax: an apparent change in an object's position due to a change in the observer's position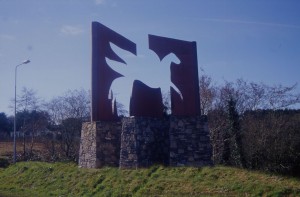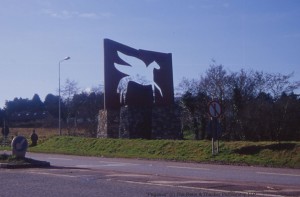 'Pegasus' (1999) a sculpture for Cork airport, Eire. A legend is intangible, thus it seemed appropriate to make the image of a winged horse from sky. As one drives up the dual carriageway to the airport, three abstract towers coincide to create the image of Pegasus. The form of the copper shapes suggests that the towers had been carved from the wings of aeroplanes. At night, a fibre optic system creates a new constellation in the night sky.
Concept/design: Mark Renn
Maquette: Mick Thacker
Fabrication: Mark Renn, Mick Thacker, Corley Welding Services & The O'leary family (copper cladding)
Materials: Copper sheet over marine plywood attached to a galvanized steel armature
Budget: £30,000 (punts)
"Hi Mark,
I wanted to share some gratitude with you. I grew up in the countryside in Cork, and looked forward to every airport trip with giddy anticipation of seeing what I now know to be your work, Parallax. 
I was always so excited and thrilled for that moment in the car of approach, the magical point at which the pegasus became whole, and then would longingly look back at it for as long as possible, when that all too fleeting moment was over.
I now work as a designer and am based in Toronto. I was researching for a project and your piece came to mind, so I googled it, and now that I know who made it, I thought I would thank you for a piece of work that has definitely enriched my life, and is very much woven into the fabric of me. I know that when I do go back to Ireland, to Cork, my homecoming will feel complete when I drive past the sculpture! "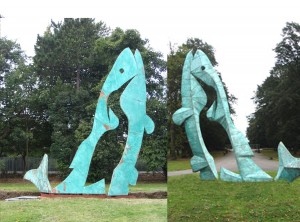 "Fish Swallowing Bird" 2003, Stockton on Tees
Concept/design: Mark Renn & Mick Thacker
Maquette: Mick Thacker
Fabrication: Form Fabrications Ltd.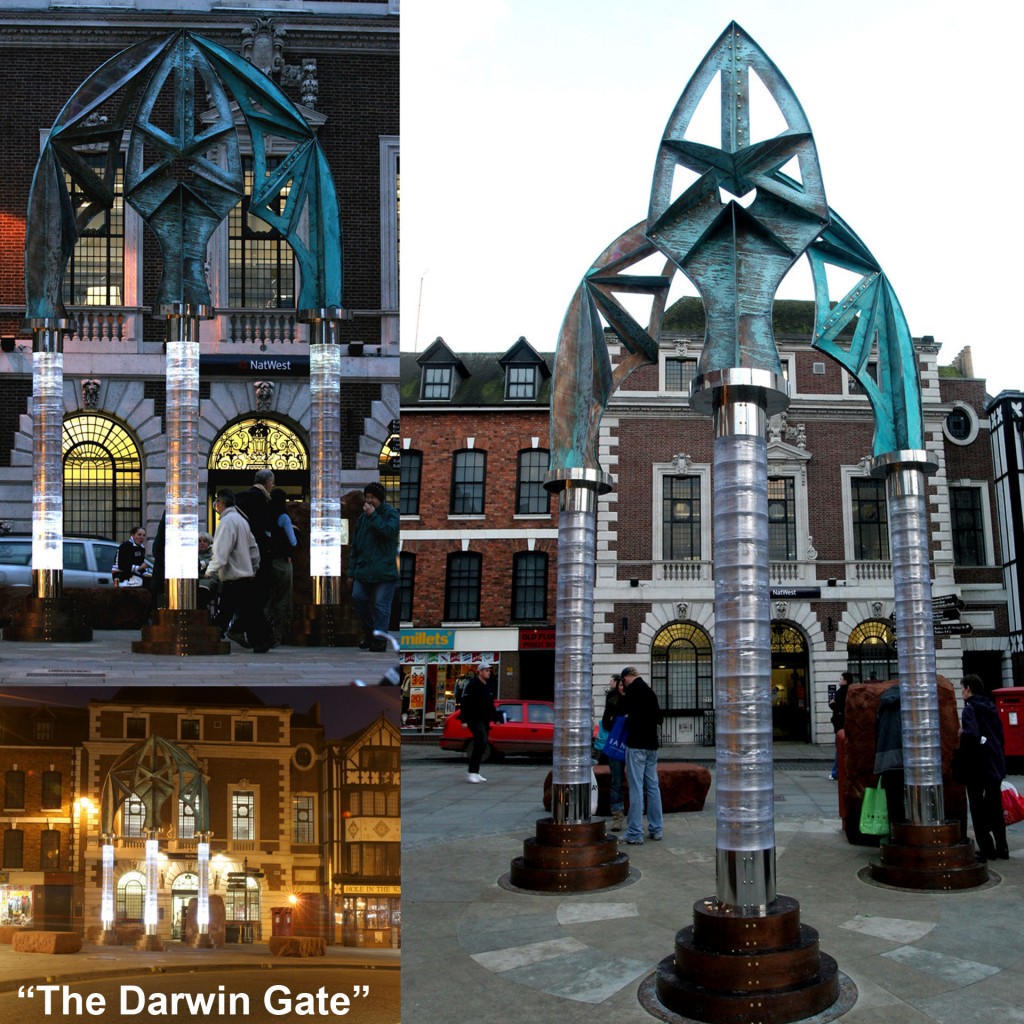 The Darwin Gate 2006
The challenge was to design a work of quality, which respected its context but also breathed new life into the town as a 21st century work of art. With this as our aim, we sought to achieve a fusion of traditional and contemporary materials, forms and technologies. The Darwin Gate celebrates the fact that Charles Darwin was born in Shrewsbury. The glass columns are illuminated by a LED system.
Mark Renn's original sketch for the Darwin Gate.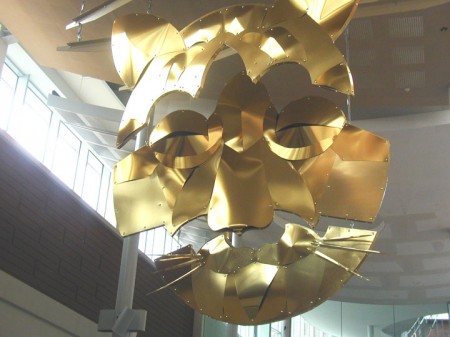 This Witty take on the Cheshire Cat was  designed for a shopping centre in Warringtonn, the town of Charles Dodgson's (AKA Lewis Carrol) birth. It was fabricated from sheet aluminium by Gordon Rogers.